Frog Lovers can never have too many frog-related items. We'd like to help you find some fun and unique items. You can find something Froggy for every room in the house. Keep scrolling down to the end of the page. A very wide selection awaits.
We also recommend some Frog Art. Always fun to look at.

Frogs make excellent gifts!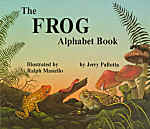 The Frog Alphabet Book (Hardcover)
by Pallotta, Jerry
List Price: $15.95
Price: $10.89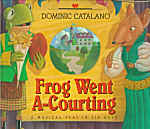 Frog Went A-Courting
(Hardcover)
A Musical Play in Six Acts
Looking every inch the dandy, Frog sits high atop a goose as he sets out for Grand Mouse Hall. Once there he stands beneath Miss Mouse's balcony singing, "Will you marry me?" Reverend Bug presides over a lovely wedding, with Uncle Rat, Miss Mole, Madam Moth, and others in attendance. All is bliss, until a cantankerous tomcat makes an appearance. Eventually, the happy couple go off to France, which is the end of the story but the start of their romance. Frog's courtship of Miss Mouse has been sung for centuries in more than one hundred versions. One tradition of this beloved and enduring folk song is traced back to 17th century Scotland, the setting for Dominic Catalano`s exquisitely illustrated retelling which includes a simple arrangement of the song for voice and guitar.
Price: $9.19 You Save: $6.76 (42%) List Price: $15.95