Tim Cotterill "Frogman Art" Bronze Frogs
Tim Cotterill has an uncontrollable passion for frogs. And only frogs. The English-born sculptor loves everything about those bulgy-eyed beauties—their faces, their webbed feet, their springy legs, and their antic nature. And he incorporates every possible expression, contour, and subtlety of these amphibians into his green-enameled bronzes. Signed, in limited editions. USA.
"What's Up" (yellow spots), 7"W x 3½"H $565.00
Focused Frog, 4½"L $340.00
The Prowler Bronze Frog by Tim Cotterill

Remarkable for its lifelike garden frog on a philodendron leaf, this is the newest sculpture created by Tim Cotterill, also known as "Frogman." Limited-edition signed by the artist and handcrafted of enameled bronze. Cotterill's signature ladybugs appear beneath the leaf.

11" x 7¼"D x 4¾"H. USA.

$2,325.00
Eavesdropper Frog
Cast in bronze with a hand-applied patina, these sleek new additions to the celebrated Tim Cotterill Frogman series would grace any art collector's shelf or mantelpiece. The lively newt has a charcoal patina and has gold-tipped feet; the inquisitive frog displays a rich orange back with charcoal webbed feet tipped in gold. Both are limited edition pieces, made in the USA.
16½"L x 6¾"W x 2¾"H.
$1,450.00

Hand-Painted Frog Boxes by Halcyon Days
Two tiny inhabitants of the Costa Rican rain forest contemplate their next leap. Porcelain figures are handpainted in realistically vibrant color and detail, atop enameled copper bases. Made in England.
Poison Dart Frog (right), 1½"L x 1½"W x 2"H $170.00
Red-Eyed Tree Frog (left), 2¼"L x 1½"W x 1½"H $165.00
Frog Brooch Gold Frog Brooch

¾" x 1"
14 karat gold

$375.00
Gold Frog Brooch
1 1/2" x 1 1/4".
18 karat gold with emerald eyes.

$1,650.00
Gold Frog Brooch
1 1/4" x 1".
18 karat gold with green onyx eyes.
$850.00
18-kt. Platinum Diamond Sapphire Frog Pin (.32TDW)
$1,158.99
Water Garden Pillows
Inspired by the blossoms and buzz of a water garden on a warm spring day, two of these pillows feature handpainted covers, while the striped pillow compliments. Blend of rayon, silk, and poly. Solid cream back, Poly fill. Imported. Dry clean.
Lily and Dragonfly, 18" Square $94.00F
Frog with Lily, 16"L x 10"W $98.00
Tim Cotterill Bronze Frog Sculptures
The world-renowned artist Tim Cotterill has added to his menagerie two bronze frogs with an orange/red patina. Handmade in limited editions; each is signed and numbered by the artist. Made in the USA.
Pollywog, 4"W x 3"H $165.00
Stealth Frog, 18"W x 6"H $635.00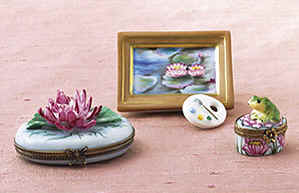 Monet-Inspired Limoges Boxes
Glimpse the gardens at Giverny and one of the world-famous paintings created by its legendary resident, Claude Monet. This series of Limoges boxes is entirely handcrafted and handpainted for us in France. The Lily Pad with Frog box and Water Lilies Painting (with removable paint palette inside) are Gump's exclusively. Also available at Gump's San Francisco.
Water Lily, 2½"L $210.00
Green Crystal Frog Paperweight
From lily pad to legal pad, a sitting frog lends charm to virtually any "swamp" scene, including that of the overworked office. Here, a hand-pressed lead crystal frog brightens the desk with his luminous light green sheen. 3"L x 3"H. Made in Germany. Currently unavailable, but nice to look at.
Frog Brooch
18 karat gold with diamonds.
$2,100.00
Hand-Blown Glass Tree Frog on Leaf by Stuart Abelman
Optical brilliance, vibrant color, and layers within layers of subtle nuances are all hallmarks of Stuart Abelman's celebrated glassworks. His frog series is created with colored rods of glass melted and worked into the unique figures while they are still on the blowpipe. Each signed and dated piece is created by the artist at his California studio. 8"L x 6"W. $595.00
Hand-Blown Glass Leopard Frog Paperweight
The leopard frog can be found in marshlands and lakes across North America. Ours is mouth-blown glass handcrafted in the USA. 3½"W x 3½"D x 2½"H.
$250.00
Dimples the Frog in Hand-Finished Bronze by Tim Cotterill
"Dimples," named for the brightly colored indentations in her back, is the latest to join the whimsical army of amphibians by artist Tim Cotterill. Cast in bronze and finished by hand. 6"L x 5"W x 3"H. Made in the USA. Also available at Gump's San Francisco. $435.00
Hand-Painted Limoges Porcelain Frog Bowl
Until you touch the gentle frog gazing up from this bowl, you won't believe that he's painted – as is his beautifully detailed lily pad. 7"diameter x 2"H. Made in France of handcrafted, handpainted porcelain.
$125.00
Frog on Lily Pad Brooch
1 1/4" x 1 1/4".
14 karat gold with emerald eyes.
$575.00
Lily Pad With Diamond Frog Brooch
18 karat gold with 0.15 ct. tw. diamonds.
$1,750.00
Crowned Prince Frog Fountain
Bring a bit of theme park fun to your very own backyard with our enchanting hand-painted fountain. Just fill him with water and enjoy the soothing sight and sound of trickling water. Handcrafted of poly-resin. UL listed. Measures 36½"H x 15¼"W x 13¾"D. Imported.
$69.99 SALE! 60% Off!
Tim Cotterill Hand-Painted Bronze Flipper Frog
"Frogman" Tim Cotterill celebrates frogs in all their glory—and that includes their wonderfully webbed feet. The limited-edition piece is cast in heavy bronze and painted by hand. Signed by the artist. 6"L x 3"W. Made in USA.
$250.00