Sean Allen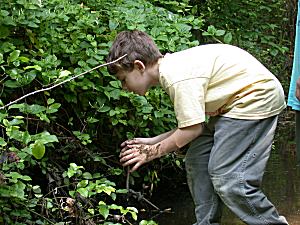 Sean developed Frog Pond when he was nine years old. It's original conception took place on an array of dice which you slid. The Frog Pond theme (it seemed a natural fit) is mainly due to his beloved Auntie Gail who is an avid Anuraphile (frog-lover). After Gail started keeping frogs as pets 90% of her birthday, Christmas and special occasion presents are frog themed. Her house is a shrine to frog-dom. Last Christmas one of the 15 frog things we gave her was Lily Pad placemats.
Sean has been "designing" games since before he could write, drawing pictures on paper and cut-out cards.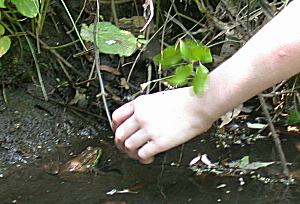 Most of these were just armies or characters with stats and abilities that would fight each other. And about twice a week I would hear "Dad, I made up a new Magic card."
For Christmas 2001 one of his "stockings stuffers" was a gift certificate offering technical help and assistance to help produce any game which he thought was truly playable. When he came up with the ideas for what is now Frog Pond, it seemed like a good time to cash in those certificates.
Sean is in the 4th Grade a St. James Elementary School in Red Bank, NJ, USA.
In the Frog Pond...No one can hear you Croak!